If you've been hearing the buzz about "sparking joy" then you might have heard about the Netflix series, Tidying Up with Marie Kondo. Marie is the founder of the KonMari method, a decluttering method that teaches if you properly simplify and organize your home once, you'll never have to do it again. Wait, did she say never have to do it again? Sign me up.
Marie has written an award winning book about her methods that sold millions, but it wasn't until the Netflix series that "sparking joy" became a daily catch phrase. We're all a little obsessed with Marie and her sweet voice asking "does this spark joy?" Now that spring is here, the annual deep clean is upon us, check out these tips below to start your spring cleaning off right.
It's going to get worse, before it gets better
Marie teaches that the best way to begin tidying up, is to put everything into one big pile. And she means it. Take every single thing out of your closet, put it in one giant pile and begin your decluttering mission.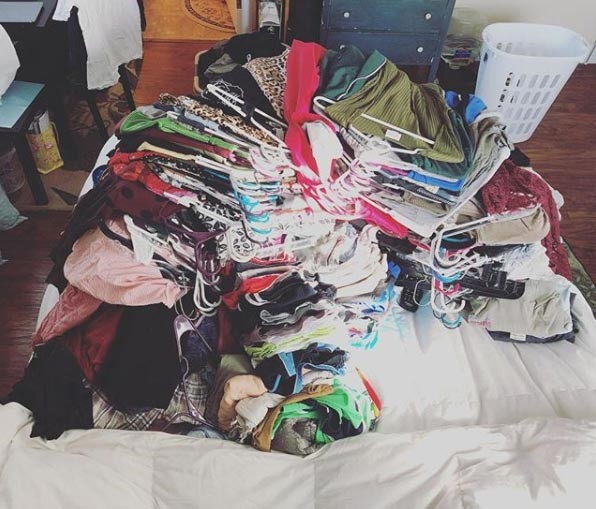 There is an order the chaos
I'll admit that when I start to organize or tidy up, I usually begin with a specific room in the house and just end up getting overwhelmed in the end. The KonMari method encourages you to declutter based on the category, not the room. Starting with the most daunting task will make you feel more accomplished and motivated to move on to the next item on the list. Clothes, Books, Papers, Miscellaneous Items, Sentimental Items.
Does this spark joy?
As Kondo explained during an interview with The Guardian, "A lot of people hit a roadblock because they feel they have to throw something away, but that's not the point. It's about understanding what needs to go versus what's important to you." And that's where sparking joy comes in. That's because Kondo instructs her clients to hold each item they're attempting to tidy and put it through a test: Does it give you a thrill of excitement when you hold it? Does it give you that little spark of happiness? If not, then it's time to let it go.
Appreciation is Key
Stuff is just stuff, right? Well, not to Marie. Her method will teach you that you should thank your belongings before decluttering them. So just remember when you're ready to toss that old hoodie from college, first give it a little hug and tell it thank you for keeping you warm on cold nights at the football games.
You've been folding wrong this whole time
Man, what an eye opener… Apparently I've been failing at folding clothes all my life. Marie's special folding method allows you to have more space in your drawers as well as give you a better view of what is actually in your drawer. How many times have you gotten to the bottom of a pile of folded t-shirts only to barley recognize those stragglers at the bottom of the drawer? Not with this folding method. Hello to all those unworn shirts I forgot I had!